Publisher's Weekly recently released their Top 100 Books of 2006
Here are my two favorites:
Small Is the New Big and 193 Other Riffs, Rants, and Remarkable Business Ideas
Seth Godin (Portfolio)
The age of the corporate giant having a competitive advantage is over. Seth Godin hospices the end of BIG.
——————————-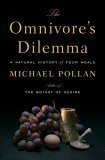 Omnivore's Dilemma
Michael Pollan (Penguin)
The path from the farm to your dinner table is not so straightforward. Pollan's explanation is.