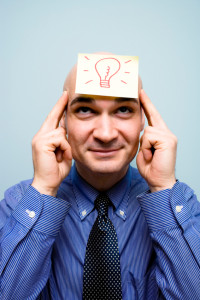 What would it be like if every time you created a new offering, your clients immediately said "yes, that's something I want to pay for"?
Imagine that when you create a new event, information product, coaching package, training program, book, webinar, etc – you immediately had high demand.
In this article, I want to show you the first essential step you need to take:
Find out the #1 thing your client wants!
I'll give you an example from my world. After I created my best-selling program Master of Enrollment, I simply asked my clients what they wanted next. (I'll show you exactly how to ask in a minute). I found out they wanted to learn how to do teleseminars with the same results that I'd been getting, so I created a new program called Teleseminar Enrollment System. That led to a $250,000 launch in the first two months!
So, your main job in your business is to uncover what is your client's most burning desire or most challenging problem, and then provide them with your solution.
This could be a game changer for your business if you haven't already done it.
Below I will show you FOUR specific and effective methods you can use to find out exactly what your clients want.
This is as close as possible to a copy-and-paste, find out what your clients want formula you will find.
Method #1 : Survey your list
One really fast method I love to use is the one-question online survey.
The question I typically use is "What's your biggest challenge with X?", where X is field that you work in (such as business, health, etc).
Why just one question? It's because sometimes the thing that stops you from doing a survey all the time it takes to think up a lot of survey questions. So let's keep it simple and boil it down to one question.
If you want to see an example of it in action then click on this link and take my one question survey.
You will notice that I chose a broad open-ended question versus a multiple choice question. I find it really helpful to see the exact language my audience uses.
When you read through a bunch of survey answers, you'll immediately see patterns. The answers that show up frequently are the items your audience is the most interested in.
This is the fastest way I know of to find out what my audience wants.
Here's my assignment to you:
Formulate your one broad and open ended question around your area of expertise. For example: "What's your biggest challenge with your business?"
Create an online survey using SurveyMonkey
Send a link to your survey out to your list, Facebook friends or members of a community you're a part of. Be sure to send a warm and friendly email, explaining that you're wanting to better understand the needs of your community.
Invest 20-30 minutes of your time to review the answers and pick out the top 2-5 themes
Create a teleseminar (or other form of education-based marketing) on your favorite of these topics, and then offer your services as a solution
I recommend SurveyMonkey because you do most of the surveys you need with the free version. We've used that service for years, but there are plenty of other options too.
Here's an example of a real survey we sent to our clients
It's a simple, direct and took about 5 minutes to create. This survey yielded 141 responses, and gave us HUGE insights on what services we could offer next that our audience would love to have.
And if you don't have a list, don't worry, you can take your one question survey to a networking event and simply ask people you meet live. That leads us to the next method…
Method #2: Interview people in your tribe
The best way to understand the needs of your target audience is to ASK clients or potential clients.
Sometimes you'll be shocked to find out what they really care about!
IMPORTANT: A big mistake many business owners make is to assume they know their clients' needs – with your expertise, you can sometimes overlook the basic concerns of "ordinary" people.
How to Interview Members of Your Audience
1. Choose 6 people from your target audience (clients or prospective clients) and set up a time for an interview (or a free initial consultation). Ask them if they'd be willing to help you out for 15-20 minutes. It takes no more than 15-20 minutes to conduct the interview, so it should be relatively easy for them to say yes. You can let them know that you're doing research to better serve people like them and their opinion really matters to you. People love to help.
2. During the interview, it's important to ask the right type of questions, ones that dig deep. (See examples below
Ask questions and then just listen.
3. Be sure to write down their specific words that relate to problems, pain, and emotions. You'll want to use the exact language of ordinary people in your marketing. Do not rephrase their words into the technical jargon of your field, it will resonate less than the language your audience uses. When you've discovered most pressing problems of your audience, this will be a catalyst for your business to grow. Because now you can go out into the world and offer your audience a specific solution to their most urgent problems (instead of what YOU think they want)!
The Interview Questions
*What's your biggest fear or frustration in your life right now related to ___________ (the problem area you work with, such as health)?
*What worries you?
*What about this area keeps you up at night?
*What are your biggest challenges?
*What would you like to change / make different?
*What's the biggest result you want to have in this area?
*What would help you achieve this result?
*How much time would you invest into getting to this result?
*How much money would you being willing to invest into that result?
*What would you like to learn more about in this area?
*Who do you consider to be an expert or authority in this area?
First, you'll want to tailor these questions to apply to the area you work in.  Listen for words that have emotion or passion behind them, and write them down.
The important thing to remember is that you want to write down exactly what these people tell you.  The more tangible and specific, the better.  You can then use the exact words in your marketing and your offerings.
Your Next Step
Arrange interviews with 5 people in your tribe.
And a really cool bonus – I've had many clients tell me that they've had people that they've interviewed actually sign up for their services!
Method #3 Tap Into A Wealth Of Expertise On Amazon
Amazon is a hidden source for a wealth of information about your ideal clients. And it doesn't have to cost you a dime to get all of the knowledge you need.
A step by step example of how to use Amazon to discover your client's #1 problem.
Let's say you're an executive coach, and you work with managers and employees of large companies.
1. Go to Amazon.com and type "executive coaching" into the search box.
2. Then click on "Books" in the column on the left. This will narrow your search to just books.
3. Browse the top 3-5 top selling books and notice what topics the authors are addressing. You can take a look at both the book description and the table contents (by clicking "Look Inside" for a given book).
For example, I came a across a book called "Be Your Own Executive Coach", and here are the problems it solves:
– Master High Impact Communications Skills
– Dealing With Difficult People
– Improving Your Personal Image
– Learning How to Listen
– Solving Business Problems Creatively
These all seem like really pressing problems and goals that a company manager or employee would have to deal with.
In browsing several of the books on executive coaching, I noticed that the topics of managing people and dealing with difficult people were very common.
As a result of this research, you might create a seminar or workshop for your audience called "Learn How To Deal With Difficult People (And Be A More Effective People Manager)"
4. Perusing the comments of the bestsellers, you can get a real sense from paying customers what they value most about the material.  This information is golden for you.  This is the point where you will want to take some great notes about what it is they are saying they gained from reading the materials.
The best part of this method is that you don't have to start with a blank piece of paper when you're creating a new seminar, service package, etc. You can tap into other people's expertise and use that as a starting point for your own brainstorming.
When you see key problems or outcomes being mentioned over and over in book descriptions, table of content, and reviews, then this is a form of validation that these are topics people want to pay to learn more about.
Method #4: Find Industry Best Practices Using Google
Another simple and elegant research possibility for getting into your client's head is to use our old friend Google. The idea here is to review the client needs that other practitioners in your industry have already identified.
Here's a step by step tutorial :
1. Do a Google search for the type of practitioner your clients would be searching for.  For example, let's use the example of an executive coach again. In this case, I did a Google search for "executive coach
2. Open the websites of the first 5 executive coaches that you find.
3. Quickly scan the home pages of these 5 websites, and write down the main topics or headlines.
Example of hot client topics I found on an Executive Coaching website
4. When you browse through 5 different websites, you'll notice that most of the sites offer the same services or address the same pain points.
5. Boil down the messages you're seeing into the 5 most common items
For example, for executive coaches, here's what I found:
* "strategic vision and planning"
* "leadership development"
* "career advancement"
* "improving team performance"
* "becoming an influential communicator"
6. These are all hot topics that potential clients of an executive coach would really respond to!
So now, based on some brief internet research, you know have 5 of the most important topics that people in your audience care about, in the opinion of top experts in your field.
If you launch webinar, teleclass, public talk, book, training program, coaching package, etc on any of these topics, you'll have a hit on your hands.
Final thoughts
Here are 3 additional important points to consider on your quest to deeply understanding what your clients want:
* Once you've found 5 things that your clients care about, you can narrow it down to the one thing that they want the most or that you're the most passionate about.

* When you find #1 thing your clients want, it doesn't have to be unique.
Just because someone else does what you do, you have a unique perspective you bring to the table.  Its okay to be doing something other businesses are doing. Here's the flip side: If you don't see anyone doing what you want to do (in a profitable way), your idea may not be viable.
* You only need to be "65% clear"
Don't wait to have the perfect understanding of what your clients want! Once you have you're about "65% clear", and you have a pretty good idea of what your clients want, go out and offer something. Only in contact with the marketplace will your understanding of clients increase.
Now it's your turn:
I'd love to hear your thoughts on understanding what your clients want.
Would you let me know:
Which of these 4 methods do you want to use this month?
Which method have you used successfully?
Let me know in the comments below.