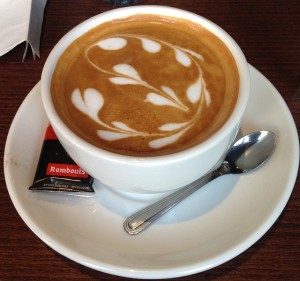 I was riding in an elevator to my office building and struck up a conversation with someone in an office one floor down from me.  She was really enjoying her morning coffee, and I noticed that her coffee cup was from Awaken Café, right across the street from our building.  I was surprised because there is a delightful coffee shop less than 10 feet from our elevator-  Bittersweet Café, and it's right in our building.  It's well designed, cozy and has seemingly good coffee (though I don't drink coffee), and it's less expensive.
I got curious, and asked her why she doesn't get her coffee from Bittersweet in our own building.  She said that their coffee is not that great, and they should stick to what they do best – hot chocolate (THAT – I do drink and it is wonderful).
This is a waste of opportunity for Bittersweet.  If they would have simply bothered to ask their clientele a few questions like:
Have you ever tried our coffee?

What do you like most about it?

What would you improve?

Would you be willing to taste test 3 version of our coffee and tell which one you would be delighted to drink daily?
it could have made a HUGE difference.
This got me thinking about how few people in service-oriented fields ask their clients, and even more importantly their potential clients for feedback.  Honest answers to those feedback questions would be like finding a treasure.
Why not just ask your potential clients and clients what they want and simply give it to them?
Share your question ideas below.  The more people share, the more ideas we will all have for questions to ask.
Here are some questions we ask clients who don't say yes to our offers:
What's been the most impactful for you about_____________?

What's one thing you would improve?

What was the biggest reason why you didn't say yes to hiring us?
Please don't forget to share your questions below.
Can't wait to see how this crowd sourcing of wisdom experiment will go!