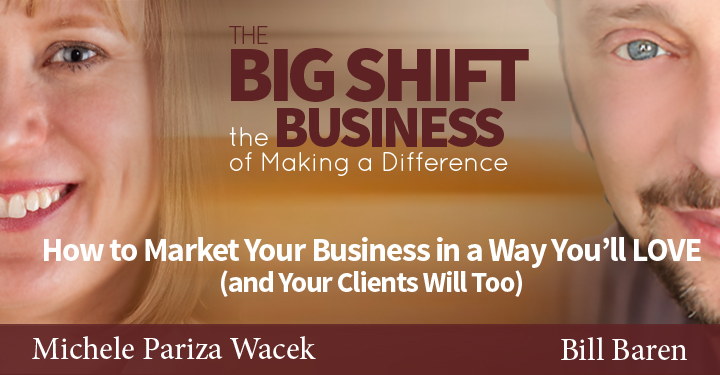 Do you want to learn a game-changing, incredibly effective approach to marketing that you'll actually enjoy?
As a heart-based entrepreneur, you probably find traditional approaches to promoting your business uncomfortable.
Those approaches can force you to communicate in ways that sometimes feel manipulative and self-serving…and you went into business determined not to be either of those things!
So you've gotta get to know my guest today, Michele PW, a copywriter extraordinaire with a whole new way to market that's all about leading with your heart.
Tune in to discover how to make marketing your biz a rewarding opportunity to share your love and wisdom with the world!
Subscribe to the show



(Click here for non-iTunes feed)
Listen to the Podcast Here
Or click here to download the podcast in Mp3 (Right Click & "Save As")
Here's What to Expect in This Episode
Why "old school" copywriting doesn't fit conscious entrepreneurs
Meet the next, natural evolution in marketing
Why you'll only attract ethical clients when your marketing is ethical
The reason traditional marketing copy taps into fear
Why your marketing will work better if it taps into love
What exactly is love-based copywriting?
How do you start creating marketing copy with love?
Selected Links from the Episode
This episode is brought to you by Premium Packages Success System. Sign up to be one of the first to receive a free copy of the new book – High End Package Manifesto: The Antidote To Under Charging & Under Earning. And learn how to package your service in a premium way. Get your copy here
If you like what you hear, here's how you can leave a 5-Star Review.