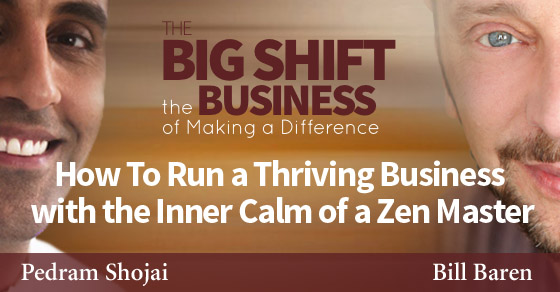 Would you like to know how to have inner peace and contentment every day—even if you're an overbooked, 21st Century entrepreneur?
It's easy to think that living in today's wired, 24/7 world is incompatible with feeling a joyful calm. Especially if you're running a business.
After all, Buddha achieved inner peace by spending days sitting under a tree.
You probably spend nearly every day working through items on your to-do list.
That's why you don't want to miss my podversation today with Pedram Shojai.
He's devoted his life to exploring how thousand-year-old spiritual practices can be adapted to work beautifully for us.
He'll reveal how you can become an "urban monk." That's someone who, in the midst of all our gadgets, obligations, and distractions, manages to find great meaning and tranquility.
Subscribe to the show



(Click here for non-iTunes feed)
Listen to the Podcast Here
Or click here to download the podcast in Mp3 (Right Click & "Save As")
Here's What to Expect in This Episode
Using your business and your life to facilitate real change
How do we create the world we want to live in?
Stepping into actions that make the world a better place
Spiritual practices that work in the 21st Century
Why you should put acts of self love on your calendar
Using meals to improve your energy
Can you become a happier, more resilient person?
The key to replacing an unhealthy habit with a healthier one
Learning how to be without doing
How can you stay balanced in the face of challenges?
Making all day good by getting comfortable with yourself
Selected Links from the Episode
This episode is brought to you by Master of Enrollment. Get a free copy of my book – YES: Conversations that Sell and learn my #1 strategy for talking to potential clients so they practically enroll themselves into working with you. Get your copy here
If you like what you hear, here's how you can leave a 5-Star Review.