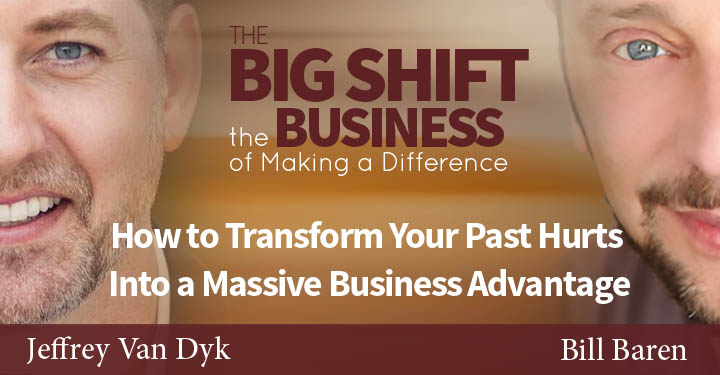 For most people, their past hurts turn into baggage.  That baggage, in turn, weighs them down and slows them down on their pathway to greater success.
What if I told you that out of all your past hurts there is a core wound that is your roadmap of how you can help the world in your own unique way?
Are you ready to hear its message?
Every human being has a core wound.  And from that core wound, you have developed beliefs and habits that hold you back from having the business (and life you want).
In today's podversation, Jeffrey Van Dyk, a leader in the conscious entrepreneur movement, reveals how to get to know your wound and discover what your entire life has been preparing you to do.
You'll see why tapping into the wisdom of your core wound gives you a huge advantage as an entrepreneur and makes your success practically guaranteed!
Subscribe to the show



(Click here for non-iTunes feed)
Listen to the Podcast Here
Or click here to download the podcast in Mp3 (Right Click & "Save As")
Here's What to Expect in This Episode
What is your life wound?
How has your wound perfectly prepared you for your purpose?
The wound you're meant to heal for your tribe
The key to having a deep and visceral connection with your tribe
How can your wounding inform your marketing and branding?
How does blindness around wounding develop, and why is it a problem?
How your wound fuels your desire
Why achieving a goal may not make you feel better
How does your wound dictate your growth?
Are you trying to change something you're against?
How to stop fearing anybody so you can influence everybody with love
Selected Links from the Episode
This episode is brought to you by Master of Enrollment. Get a free copy of my book – YES: Conversations that Sell and learn my #1 strategy for talking to potential clients so they practically enroll themselves into working with you. Get your copy here
If you like what you hear, here's how you can leave a 5-Star Review.