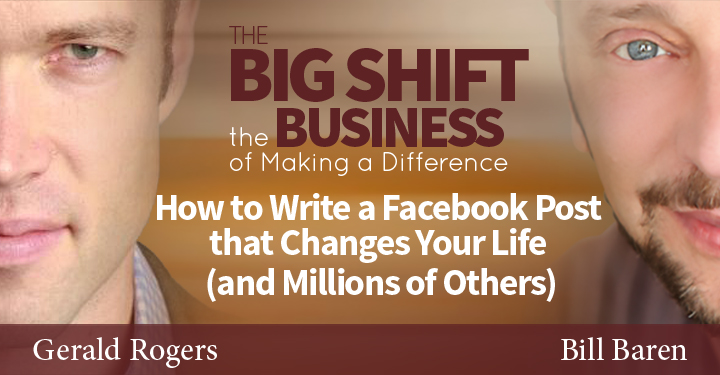 You lose the love of your life, and you're not sure how to even get through the pain. So you write about it from your heart—raw, vulnerable, authentic advice to yourself. Then you post it on Facebook. A week later, it's been shared 70,000 times.
The Huffington Post runs it, The Today Show books you as a guest, and you've discovered a whole new life purpose. Soon you're a recognized expert helping millions around the world. And you're making six figures just from Facebook alone.
That's the incredible story of my guest today, Gerald Rogers. I've never known anyone who could explain so clearly how to find your audience and turn them into a loyal, avid tribe. Would you believe it all comes down to a simple five-step formula and the willingness to tell the world when you're a mess?
You'll believe it after you hear this.
(Click here for non-iTunes feed)
Listen to the Podcast Here
Or click here to download the podcast in Mp3 (Right Click & "Save As")
Here's What to Expect in This Episode
How to catch the inspiration available in every moment.
The life-changing reward of letting your mess be your message.
Gerald's 5-step Facebook strategy for mind-blowing success.
Why authenticity is the new currency.
How your deepest pain can become your greatest gift.
The one thing that will hold you back in business if you let it.
How to write a Facebook post that resonates with millions.
The key to building a tribe of avid supporters.
How to remove yourself from your critics.
Selected Links from the Episode
If you like what you hear, here's how you can leave a 5-Star Review.