Hi, It's Bill,
I'm delighted that people are still buzzing from our Big Shift Experience Live 2013!   It's incredible what you can create from having more than 400 people that are all there to make a difference in the world.
They learned what works to add revenue to your business in 2013.
They laughed and had amazing fun.
And they left utterly transformed.
If you weren't there, my 3 roving reporter contest winners are here to bring the Big Shifts directly to you.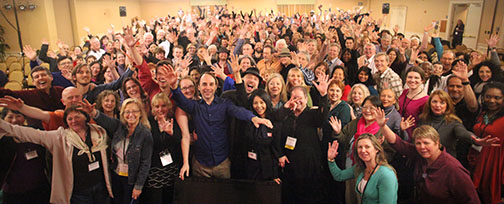 They took great photos photos, shot videos, got quotes & created fabulous stories from our entire crowd. Without further adieu, here are their reports:
Geffen Rothe – http://www.welldefinedsolutions.com/2013/03/26/bill_baren_big_shift/
Stephanie Lum – http://hungryfornutrition.healthcoach.integrativenutrition.com/blog/2013/03/big-shift-with-bill-barren
Eva Zacks – http://www.prosperityreboot.com/how-to-share-your-big-idea-10-mindsets-for-turning-your-marketing-into-a-movement/
I hope you will be able to make it to Big Shift Experience 2014.
Warmly,
~Bill
P.S.  If you were at BSE 2013, share below and let us know what you think!