Earn More, Serve More, and Work Less. Here's how…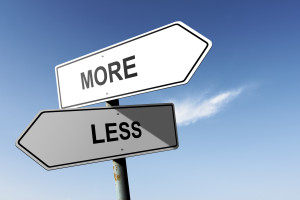 What if you could find a way to double, or even triple the number of dollars coming into your business without working more hours?  And, what if, with that increased revenue you could also exponentially increase the impact and results you're able to deliver for every single client that worked with you?
It's possible.  And that's the topic of today's blog post.
I find in talking with many small business owners, one of the biggest challenges they face is making enough money to make their business sustainable.
Far too often I see them undercharging and under-earning.
So how do you change this so you can start creating more income, and a steady flow of clients… all while working the same hours or less?
Two words: premium packages.
You've probably heard about high-ticket programs or offerings.
I call these high-end offerings "premium packages." And I feel they are the best solution for your undercharging and under-earning.
Here's why: premium packages are all about helping your clients get premium results. It's about providing your clients with big results and a deep level of transformation.  And for that, your clients are willing to pay a premium.
Here's the basic idea behind premium packages:
It starts with designing and offering packages in the $2,000 to $10,000 range, or even more.
However, it's not just about raising your prices.
It's about creating packages that deliver a deep level of transformation for your client. Not just a band-aid, but the big result they really wanted when they came to you.
And for you, offering premium packages helps you get out of the trading time for dollars model.
Learn from my mistakes
I did not have premium packages when I first started out.  In the early days, I was so excited to get a client–any client.  And I learned my lesson.  I remember one of my first clients… she was a spiritual teacher.  The only way she agreed to work with me was if we had our sessions in the ungodly hour of 6 a.m. on Monday mornings of all days.  This is the worst possible time to work with someone for me, but I wanted a client – I was desperate.
– so I didn't even blink before agreeing.
At this point, you're probably thinking that this was some kind of high-end premium client.
Nope.
She was paying me (wait for it)…
$20 per hour.
Not only were we working at 6 a.m., she was one of the most difficult clients I have ever had.  On top of that, she was also one of the least committed clients ever – missing sessions, not doing what she said she would do.  And that $20 per hour wasn't even making a tiny dent in my monthly expenses.
I learned many lessons from this horrendous experience that helped make sure I would never take on a $20-an-hour client again.  I'd like to share a few with you today.
Lesson #1 – Premium is the only way to go
Here's the first big thing you need to know if you want to go premium in your business.
EVERY industry has room for a premium level of service.
Think about the services you use on a regular basis – almost every one of them has a premium level.
You can fly coach or you can fly premium first or business class on an airline.
You can find a premium fitness country club with fees that are 10 and sometimes 50 times what you would pay at 24 hour fitness.
You can buy a car for $15,000 or you can buy a Tesla for 5 to 7 times that amount.
You can go to a Laundromat and put quarters in and get your laundry done under $10 or you can send away for a premium service for a $100.
Premium is literally everywhere – the other day I was buying tickets to see Jerry Seinfeld and I saw premium tickets, that included meeting him backstage for 20 times the ticket I bought.
And, here's an important key to remember:  10-20% of the people in your audience want the best, not the average, that you can provide.
So, if you haven't gone premium, there is a very good chance that you are not serving people who want a premium service right now. There is a HUGE opportunity for you in providing that level of service for people who want to sit in the front of the plane and in the most comfortable seat possible, in your area of expertise.
That also means about 80-90% of your audience won't want premium products.
Essentially, there are going to be some people who want your premium services, and there are going to be a ton of people who don't.
And the beauty of it is, when you charge premium fees, you do not need tons of clients to create an awesome business.
So it doesn't matter what your business is, you have a tremendous opportunity in offering premium packages with a premium level of service that serves people more deeply and appeals to the best clients in your niche.
Lesson #2 You can Create a 6 figure business from premium packages:
Here's how that might look:
Ten clients at $10k   (you only need to have 1 client / month)
Twenty-five clients at $4k    (You only need to have 2 clients / month)
Thirty-three clients at $3k   (You only need to have 3 clients / month)
So how do you do this?
Let me give you an example from a client. When my client Ritamarie came to me, she was already an incredibly knowledgeable health expert, but she was still charging $75 per session and often had 2-hour sessions with her clients.  She was massively undercharging and under-earning.
At that point in her business, you could actually call Ritamarie and book a $75 session. What is the problem with that?
For Ritamarie, it was difficult to grow her business, even though she was incredible at what she does.  It takes a lot of marketing–and even more selling–to continue to find clients at $75 per session.  And she found it frustrating working with these non-committed clients, who wanted quick fixes and not full-blown health makeovers.
And this wasn't good for her clients, either – because they weren't fully committed to their health, their results weren't as great as they could be.
After we worked together, we changed how she positioned herself, and how much she charged.  Instead of just calling herself a health expert, she narrowed down the types of clients she focused on.  She started working with clients for longer periods of time.  She started requiring 6 month commitments.
And you better believe because her clients working with her now are putting more skin in the game, they are super committed and are having miraculous transformations with their health.
Now, Ritamarie is nearing a million-dollar business, her premium packages range from $10,000 to $30,000, and she still has a waiting list.  And she is now considered one of the top practitioners in her field.  In fact, she is now training other practitioners in her system.
Can you see how switching from a dollars per hour consultative model to charging for a very specific outcome not only allows you to charge more, but it also benefits the client?  Ritamarie is not only making more now, she's helping her clients have health breakthroughs they could never have only seeing her on an ad-hoc basis.
Lesson #3 Offer your deepest transformation, instead of short-term solutions  
I know that in order for me to be of ultimate service to people, I need to be their coach or mentor for a period of time that allows me to truly bring everything I have to offer to that client.  We all know that to create real, meaningful change or produce truly desirable results in a business, in someone's health, in someone's love life, or in their personal growth, or really in any important area – it takes time because the day you plant the seed is not the day you pick the fruit.
It makes sense that if you want to fundamentally shift someone's relationship, or if you want to help someone find their soul mate, or if you want to help someone create total financial freedom or if you want to help businesses have incredible productive teams or if you want to help someone find their true purpose  – all these things take time.
And most clients understand that there is no magic pill for any of these important desires that people have.
One of my clients, who is a relationship coach, tells her clients, "we are going to work together for a minimum of six months because that is how long it takes for you to change your habits in a relationship."
When she explains what she does to clients, they get it. It actually gives her more credibility. Because if she said, "oh, we will just change this in a weekend," it wouldn't seem as believable. And for most practitioners, it wouldn't be authentic or true either.
When you take a stand for your clients and are totally honest about how much time and how much effort it will truly take for them to see the results they want, they will appreciate your honesty and your expertise, and will be that much more attracted to your premium offering.
Premium packages also skyrocket your credibility.  When someone is offering you something that is priced at a premium, and if the offer is something you truly want, your natural response is, "hmm, this must be good…" Or "this person must have some mojo to be able to charge this much."
It will naturally be attractive to the best and most committed clients.
Oftentimes, when I start working with new clients and help them create premium packages, one of the first things I do is say, "okay, I think you should quadruple your prices."
Wouldn't you find it a little scary to be quadrupling your prices right now today?
Of course you would.  But the real questions are:
How do I quadruple the value of what I am offering?
How do I increase the desirability of my packages?
And when you are able to do that, quadrupling your prices is easy.  And, having clients say, "Yes, that is exactly what I want" is even easier.
You can have the financial freedom and safety you want.
You can be working with the best clients in the world.
You can be confident, proud and fulfilled with the work you are doing.
You can be making the kind of impact you are actually here to make.
And you can have an awesome life doing what you love.
You get to do less, make more money and have a lot deeper impact.  And premium packages can pave the way to you creating your dream business where you're making a massive impact, and generating an abundant income.
If you enjoyed this article, check out this video I created to show you the Antidote to Undercharging and Underearning. This is the first in a 3-part series I developed on how you can create irresistible premium packages for your business – what I'm calling the "Premium Packages Success System."
Now it's your turn:
What is one piece of information you can implement now from this article? Let me know in the comments below!