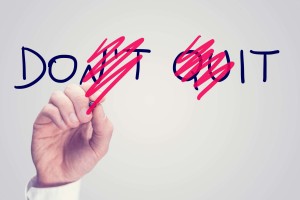 It took me more than 4 years and running through all my savings before I could earn enough from my business to afford to live a good and simple life.
That's a long time to be earning less than I need.
I could have quit.  
I could have hedged my bets and not given my business my all.
But, I'm glad I stuck it out.  Because I can honestly say that I owe my current success to those amazing and difficult first 4 years.
And I've noticed that there's a mindset difference between the people who quit and those who stick it out and make it through the tough times.
From what I've seen since talking to small business owners, most businesses fail for 2 simple reasons:
The business owners quit
The business owners sabotage their success and thus quit by default
So, what can you do to not only stay in the game but also play full out in this game we call business?
Today I'd like to share that with you.
1. Know the minimum amount you need to earn in order for you to be satisfied.
This is not a number that will make you ecstatic. This is the minimal amount of money you need to live a simple and satisfying life.
If you don't know what that amount is, take a couple of hours to create a little budget of what you really need to live on to be satisfied.
(Hint: the less you need the more satisfied you'll be)
2. Set clear expectations for your journey towards success
You started your business because you wanted to help people.
You also wanted to be your own boss and be in control of your destiny.  You didn't think this would be easy, but you certainly didn't know it was going to be this difficult.
When the difficulty level of our endeavor is higher than we expected, we tend to want to throw in the towel.
So here's the real deal:
Growing your business is going to be challenging.  All of your gremlins and monkey-mind thoughts will come out to play.  You are going to want to quit at times (I certainly have).
But it's your relationship to those challenges that determines your ability to stay in the game.
So how do you relate to your "challenges?"
Remember, having some obstacles in your way is not a "sign from the universe" to quit.  It just means you may need to try a different path to get to the outcome you want.
Every challenge is an opportunity to learn and grow.  And, one of the biggest mindset shifts you can make is to align with a learning/growth mindset vs. a goal-first mindset.
The more you can adopt a learning/growth mindset, the easier your journey is going to become.
I am not knocking "goal setting." But what if instead of you getting down on yourself for not meeting your goal, you asked yourself the question "What 1-2 things do I need to adjust?"
If you did that every single time something didn't meet your expectations, do you think you would eventually hit whatever target you set?
3.  Everything takes longer than you think
Businesses are like remodel projects – they take twice as long as projected and we have to invest double the money into it.
It seems to be our nature to overestimate what we can accomplish in a year, and we tend to underestimate what we can accomplish in 10.
So set your expectations straight and don't expect to be an overnight sensation – they don't exist.
And remember – right where you are is just fine.
4. Stop focusing on the things that won't really get you to where you want to go
We all want to get masterful at our craft.  After all, sharing our gifts with the world is what we started our businesses for in the first place.
But for most people, putting more and more time to perfect our service delivery is NOT going to be what helps you get to the next level of impact and of earnings.
It's putting the time and effort into improving your marketing and your sales/enrollment skills. That's what is key to get you from here to there.
How much of your time during the week are you truly devoting to client-generating activities?
Are the activities you are involved with going to DIRECTLY lead you to getting clients?
If the answers are NO, you've got some 'splaining to do.  Yes, it would be good for you to talk to your boss – YOU – and redirect your energies into activities that will actually bring you the revenue you are looking for.
Conclusion:
I know you want to rock your business.  I know you want to make a difference.  I know you have what it takes to make this happen.
And in order for you to reach that awesome potential of yours, you have to stay in the game long enough to succeed.
I hope this post will help you to do that.
Comment time!  
It would mean the world to me if you would leave a comment on how this article impacted you and which of my 4 points resonated with you most.