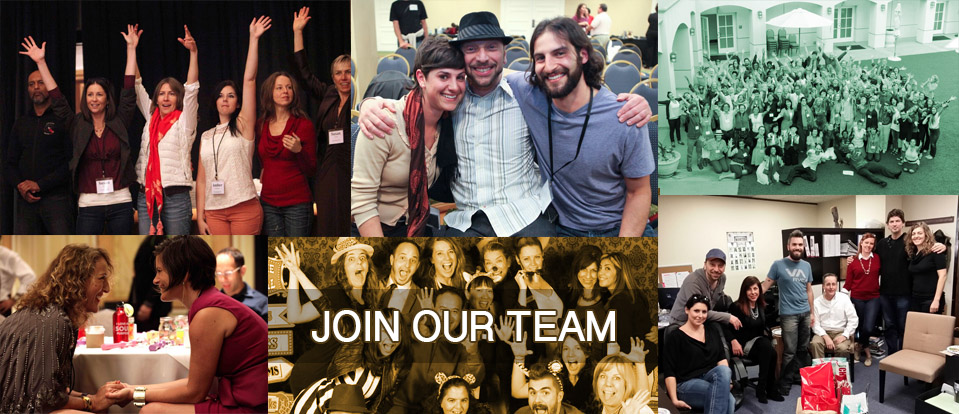 Digital Marketing Manager
Are you an A Player in digital marketing who is hungry to gain the skills and experience to be at the top of your game?
Do you want to work in a team of high-achievers that create some of the most successful marketing campaigns in the transformational industry?
Do you have a desire to make an even bigger impact on the world by spreading conscious business practices?
If you answered "YES!" to all three questions, then you just might be right for our team!
We're looking for an experienced Marketing Project Manager that cares as much about helping people and changing the world as they do about making money.
Bill Baren Coaching is a global authority for training and coaching world-changing entrepreneurs, providing services to tens of thousands of entrepreneurs in over 32 countries. Our flagship training programs, coaching, live events and online webinars have earned us a reputation as a leader in our space.
You'll work closely with the Marketing Director and the Chief Marketing Officer to gain unprecedented insight into how to create highly successful marketing launches using the latest digital marketing strategies.
The Digital Marketing Manager role is only for someone that is driven, highly organized, resourceful, a team player, and wants to challenge themselves to grow personally and professionally.
You'll be responsible for managing product and live event launches with proficiency in –
Project Management
Email marketing
Facebook Advertising
Video marketing
Webinars/Live Streams
Product/brand awareness
Lead acquisition
Content engagement
Sales conversion
Content creation
If you can demonstrate previous experience managing projects to results using a data-driven focus, a methodical approach to managing resources, and an uncanny ability to multitask to get things done, then we will like to invite you to join our team of rockstar digital marketers!
Requirements
3+ Years experience in B2C marketing required
Bachelor Degree in Marketing or equivalent discipline
Experience in project management, strategic/technical marketing, market analytics required
Be familiar with statistical analysis and research methodologies
Track record of successfully defining, launching and managing products/programs
Good interpersonal, teamwork and communication skills
Experience in coaching or transformational service industry preferred
What Kind of Person We're Looking For
You are a machine when it comes to organization, creating plans, thinking ahead and juggling a full plate of projects while managing multiple people…all while staying focused.
You are excellent at creating project plans, developing, executing and passing on systems and have a passion and skill for bringing the right team together to assist you with delivering on each project. You'll also be skilled in thinking outside of the box when it comes to problem-solving.
Attention to detail is crucial along with having an understanding of how online marketing works. This includes lead magnets, opt-in pages, sales pages, email marketing processes, webinars, Facebook marketing, etc. If any of those phrases are brand new to you, this is probably not the position for you.
You'll be responsible for each project from start to finish and managing everything in between. You'll be working very closely with our Marketing Director and Chief Marketing Officer on the conception of projects before it's turned over to you to do what needs to be done to make them happen on time and within budget (that means you'll need to know your way around a spreadsheet).
We have high expectations for the person that joins our team as Digital Marketing Manager. If you're the right person for the job, then this will excite and motivate you!
What You'll Be Doing Exactly
You are the heartbeat of every project. You'll be responsible for ensuring that each aspect of the project gets completed including the marketing, technology, logistics, etc.
Managing a team is a large part of this role. You'll know where to find the people needed, but most importantly, you'll know how to communicate effectively with team members and contractors to get the job done while ensuring they are fulfilled and enjoying their work.
You will be the go-to person on any questions related to the project. Team members include admin, customer service, web designers/developers, copywriters, graphic designers, marketing team members, videographers, etc.
You will create budgets and stay on top of expenses during the project period.
You will be the leader of each project – meaning you'll be evaluating where the project is at (tasks and budgets), who needs to do what and what needs to take priority. It's your responsibility to gather status updates from each team member involved in the project to foresee any future challenges and create plans around them.
Knowing the project inside out is a must as you will be responsible for triple checking and testing every part of the project before, during and post project. An example is checking on the setup of webinar registration pages, sales pages, email marketing funnels, etc. and checking if work has or has not been done by the team to a high standard.
You will be creating progress reports and meeting regularly with our Marketing Director to make sure things are moving forward and to help remove any roadblocks in your way.
Marketing Project Manager Must Haves
Ability to work on multiple projects at any one time.
Operate in a fast moving environment and adhering to deadlines while producing high quality work each and every time.
Be able to work autonomously and stay focused on the job at hand.
Understand the big picture of each project and the company, but also be able to drill deep into each project to establish what needs to be done and when.
Passion for working with others (being collaborative) and helping our team members grow and learn.
Ability to handle, direct and provide straight-forward feedback.
Technology savvy with the ability to jump into any software system and figure it out.
Be a problem solver and think ahead to ensure any challenges don't greatly impact project progress or outcomes.
This is a full-time position so the time investment will typically be 40 hours per week and you'll be working roughly within the hours of 9am to 6pm, Monday through Friday at our office in Emeryville.
That said, this is not for someone who lives for the weekends and dreads Monday morning going back to "work." We're a mission-driven company who, at the core, are about changing the lives and businesses of everyone who comes into contact with our company. But when we have a big project and work needs to get done, then we're all hands on deck.
Working at Bill Baren Coaching is demanding, but also very fun and very rewarding. It's definitely hard work, but if you put in the effort and do a great job, there will be lots to learn and a lot of room for you to grow with us.
APPLY NOW!
To Apply For This Job –
Please visit www.billbaren.com to learn more about our business, and then:
1. Email a thoughtful cover letter in the body of the email to careers@billbaren.com.
a) Your cover letter should address your interest in working at Bill Baren Coaching, and your track record with achieving results with digital marketing. Also include your favorite food and let us know the two mistakes you found in this job posting.
b) In the beginning of the email, please include your full name, your complete mailing address, your phone number and email address.
c) The subject line of your email application should read: Marketing Manager – your full name.
2. Attach a resume as a PDF document.
We will review submissions and if we believe you are a good fit, we will contact you to schedule an interview. Thanks for your interest.
---
Coaching Program Delivery Manager
Are you
A personal growth junkie with an obsessive desire to make the world a better place?
A born leader who thrives in bringing out the best in yourself, your employees, and your clients?
Exhilarated by the idea of working with inspiring change leaders in the coaching and training industry?
Excited to support heart-centered entrepreneurs in their personal growth and business development while simultaneously working toward your own personal and professional goals?
Ready to join an awesome team of big-hearted, dedicated, conscious, playful professionals who will regularly appreciate and celebrate you?
If you said yes, yes yes, yes and a full-body YES, then keep reading!
Bill Baren Coaching is a global authority for coaching and training entrepreneurs with a mission that positively impacts people's lives. We are ambitiously committed to unleashing the full potential of humanity by working with tens of thousands of entrepreneurs who desire to do the same.
If you're passionate about delivering high-leverage coaching and training programs and events that transform businesses and lives, then Bill Baren Coaching is for you.
We are looking for extraordinary people who are driven by excellence, innovation and customer responsiveness to contribute to providing powerful training for aspirational business owners driven to create a ripple effect of change in the world. At Bill Baren Coaching, you will be part of a high-performing team with opportunities for professional growth and development.
The Opportunity
Ready to make an impact? You will directly contribute to training received by 1000's of entrepreneurs every year.
This is a fantastic opportunity for a candidate with a proven track record of managing and delivering educational/coaching-related programs in both online and live environments.
As the Coaching Program Delivery Manager you will support and lead a specialized team in providing the effective and coordinated delivery of multiple coaching-related business and personal growth programs across our organization and managing the daily operations of the Program Delivery Unit. You will oversee all program-related areas, including content development, client success, communication, budgets, resource allocation, and reporting.
Your responsibilities will include:
Driving program management, project plans, execution and tracking of initiatives
Supporting executive leaders with overall strategic planning, budget management and risk management
Creating and implementing strategic and operational systems and processes
New program planning and implementation
Performance reporting and management
Designing and implementing visual training, tutorials and guides
Ensuring program standards are met
Enrolling and re-enrolling clients into the program
Managing Program Coordinators, Program Support and Coaching Supervisor
Essential Requirements
As the successful candidate you are:
A highly collaborative individual, driven to excellence and able to analyze situations effectively and produce results from a complex picture
Able to create success exercising sound judgment and working independently within a dynamic and fun environment
Flexible and adaptable, able to flourish in an environment of rapid change and implementation
Able to display a high degree of resilience and emotional intelligence, which you will need in order to get the best from your team and be successful in this role
Reporting to the VP of Operations and Culture, this key leadership role will provide the right candidate with a huge degree of satisfaction in the delivery of coaching and training programs that have significant and positive global impact.
Additionally, your experience includes:
Prior program delivery experience: 2-5 years in working within a small business (less than $25MM in revenue) environment as a Program Manager, Program Delivery Business Unit Lead or Project Manager
Project management: Experience conceptualizing, planning, implementing and managing project plans and teams
Content management: Experience creating and maintaining a resource library of organized content
Curriculum development: Experience in developing and delivering educational/coaching program curricula
Reporting & metrics: Experience developing and implementing custom management reporting and dashboards
Financial acumen: Experience with risk-management and making sound decisions that have significant financial impact
Enrollment skills: Ability to enroll clients and direct reports into a particular course of action
Leadership acuity: Experience both in leading others to success and nurturing leadership qualities in others
"Do What It Takes" Attitude: Including the ability to work outside normal working hours on occasion
Education: Bachelor's degree in English, Journalism, Business, Public Relations, Instructional Design or related communicationsvfield
Additional education: Credentialed coach with experience in coaching clients in both 1:1 and group environments preferred, marketing education a plus
Personal growth industry: Prior experience working within the personal growth, marketing or events industry a plus
Entrepreneurial culture: Prior experience working with an owner-operator entrepreneur a plus
Please note: The successful candidate may need to undertake background and criminal record checks.
What we offer you
We offer rewarding careers for outstanding professionals, competitive salary and benefits, ongoing learning and development opportunities, a collaborative and inclusive culture, and flexible and agile work practices that focus on our people's well-being to drive innovation and entrepreneurship. We also believe that our business plays a distinct and vital role in helping create positive and lasting impact for our clients and the clients and customers they serve.
We believe diversity of thought, background and experience strengthens relationships and delivers meaningful benefits to our employees, our clients and communities.
How to apply
TO APPLY, please perform the following steps:
(It's important to follow the directions EXACTLY.)
Please visit www.billbaren.com to learn more about our business, then:
Write a thoughtful cover letter (no longer than two pages) which includes:

Your full name, complete mailing address, phone number, and email address
A summary of your job-related qualifications and why you think you'd be great for this position
Why you want to be a part of our team
Describe how you have successfully lead a delivery team to deliver a new, complex, technology-enabled program.
How have you successfully balanced the business change needs in a timeframe constrained program?
Any specific training, experience, or skill sets that may set you apart from other applicants

Send us an email with the subject line: Coaching Program Delivery Business Unit Lead – [YOUR FULL NAME]
Attach your cover letter and a resume as PDF documents to the email
Send your email to careers@billbaren.com
If after reviewing your cover letter and resume we think you might be a good fit for the position, we will contact you for an interview.
---
Enrollment Champion (Sales & Customer Service)
QUEEN isn't the only group of rock star champions. The Bill Baren Coaching team is also made up of rock stars! And, we are looking for another great champion to join our team.
If you don't know what in the world we're talking about, we'll forgive you, but strongly encourage you to do your classic rock-n-roll research so that you can sing "We Are the Champions" during your interview. (Well… in your head anyway!)
Are you:
Passionate about making a positive difference in the world?
Committed to growing personally and professionally?
Looking for a positive work environment with an organization on a huge mission to help all of humanity reach their highest potential?
If you said yes, then you are in the right place. Keep reading!
Bill Baren Coaching, is a small (but MIGHTY!) company in the San Francisco bay area (Emeryville, California). Our mighty awesome company offers business education and serves a fantastic community of heart-centered entrepreneurs by helping them learn how to fulfill their dreams of creating financially successful businesses that allow them to share their gifts, talents, and passions with the world.
We care DEEPLY about our community, and the chosen Champion will too. We are looking for someone who can support our community with care in all interactions, while strengthening our connection with them.
On this stage, you will:
Reach out to develop relationships with our community members
Support current and potential clients in their quest for understanding the business education programs we offer and help them determine if one of our programs is right for them
Support clients in breaking through their limiting beliefs and fears that keep them stuck in patterns that do not serve them
Coach and inspire our clients to reach their highest potential – even when it feels difficult for them in the moment
You will also:
Provide excellent customer care support by accurately and efficiently responding to requests from our community
Own your department specialties and projects and report on the results
Assist other band members as requested
We need you to be:
Playfully competitive
An experienced sales and client care professional who LOVES to be in service
Able to manage multiple tasks with competing priorities that change rapidly
An absolute rock star professional who takes pride and ownership of your specialties/projects
Looking for a long-term position with an awesome group
Someone who is motivated to get a lot done in a day
A PROVEN problem-solver who is not afraid to dig in and find the answer
Able to have empathetic and successful coaching/counseling conversations with clients who are experiencing a variety of difficult personal circumstances
Skilled in interpersonal relationships and emotional intelligence
Proactive and able to work independently, as well as part of team
Excited to learn new skills and explore new territories
A lightening-fast learner
Have a positive personality with a "do whatever it takes" attitude, and have a GREAT sense of humor!
Excellent time management and organization skills
Great follow-through skills – you like to take things all the way to completion
Able to follow processes that increase performance/results
Excellent written and verbal communicator
Proficient in Microsoft Word and Excel, Mac platform, and Google Docs/Sheets
Be able to work extra hours for special projects, product launches, and live events
And that's not all… one of the exciting things about performing with this growing group of rock stars is the wardrobe changes. If you enjoy variety and growth, you will definitely enjoy rocking out with us! You will be asked to stretch and evolve beyond your current skills and to capitalize on your strengths. There is room to grow here.
You MUST have:
Bachelor's degree or equivalent work experience
Coaching or counseling certification
2 years minimum of successful inside sales experience
2 years minimum of direct client care experience
Strong technical aptitude (computer systems savvy)
Live within daily commuting distance to Emeryville, CA
Bonus points for experience with:
Infusionsoft
Zendesk
Teamwork
Slack
Let's check in… You still with us? Great! Let's get down to business…
Regular Hours & Compensation:
5 days a week, Monday- Friday, typically 9am-6pm, 40 hours/week
This is a non-commissioned, salaried position
Compensation will depend on your qualifications and experience
Company pays 50% of health insurance premium for company plans
3 weeks of paid time off per year (one of those weeks reserved for the week between Christmas and New years)
Employee Assistance Program and discounted tickets on local events
TO APPLY, please perform the following steps:
Visit billbaren.com to learn more about our business, then:
Make a video of yourself and tell us:

Why you want to be a part of our team
What makes you the perfect fit for this position
Why we should hire you over other applicants with the same qualifications

Send us an email and include:

Your full name, complete mailing address, phone number, and email address
Your resume (which clearly displays your qualifications for the position)
The Youtube link to your video

Enter the subject line of your email as: Enrollment Champion – [YOUR FULL NAME]
Send your email to careers@billbaren.com
Thank you for your interest in joining us. We are looking forward to your reply!
If after reviewing your video and resume we think you might be a good fit for the position, we will contact you to be considered for an interview (don't forget to practice the song!).