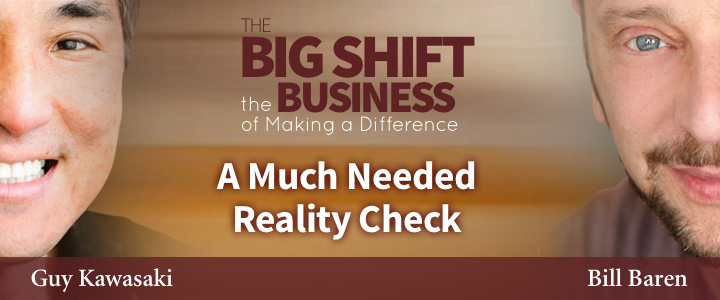 Any time you can get a sit down with Guy Kawasaki, you take it.  Guy was one of Apple's first full-time evangelists. He is the Godfather of all successful bloggers.  He has founded a successful venture capital company.  He has written some amazing books that I have read cover-to-cover.  He is a student of business and of life.
In this podversation, I am going to my best-of interview vault.  I love this one.
First, we'll review why it's important to recognize when you're at your peak in life and in business.  Guy explains the key to an excellent elevator pitch, and a few ways business owners can test their technique to make sure they use an effective brand message.
Next, Guy opens up about why happiness is unattainable. Instead, he tells us we should strive to find joy in our lives…which just might be easier to do if we didn't have to sort through so many emails, wouldn't it?
Finally, he puts a Stanford professor's theory on team building to the test, letting us all in on a little secret to better manage our team no matter how brilliant and gifted they are. You do not want to miss all the holy shitaki moments waiting for you in this action-packed episode.
(Click here for non-iTunes feed)
Listen to the Podcast Here
Or click here to download the podcast in Mp3 (Right Click & "Save As")
Here's What to Expect in This Episode
Why Guy wants to delete his email inbox for good?
How many sentences should an email be?
What's the best way to praise employees?
What did Tiger Woods do mid-career that shocked us?
What makes Twitter perfect for busy people?
How can 'grinding it out' help you excel in business?
How do theoretical ideals help us keep improving?
What is the Hollywood elevator pitch?
How does the Opposite Test help us test our brand?
Why are three-word mission statements so effective?
How can a simple mantra change your life?
Selected Links from the Episode
If you like what you hear, here's how you can leave a 5-Star Review.