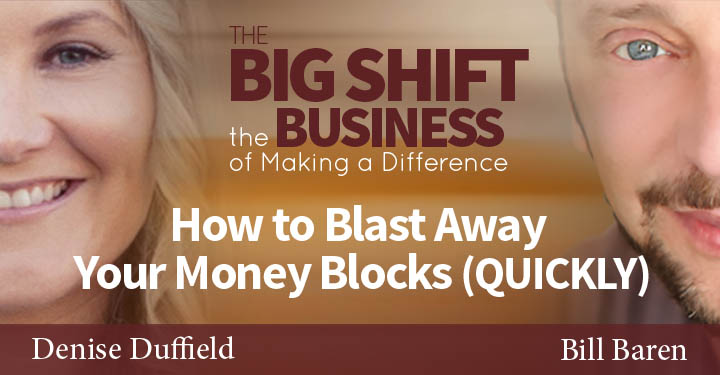 Are you ready for a fresh (and funny!) roadmap that will lead you to outrageous business success?
This episode is all about transforming how you think, feel, and even talk about money—so you can make a lot more of it, and love doing it.
My guest today, Denise Duffield, is a magnificent money mindset mentor.
If you're used to living with an "economy class" mentality, get ready to move your mind, your income, and your life up to first class!
Subscribe to the show



(Click here for non-iTunes feed)
Listen to the Podcast Here
Or click here to download the podcast in Mp3 (Right Click & "Save As")
Here's What to Expect in This Episode
What's your "money story"?
How do your childhood money memories affect you now?
Growing up rich or poor doesn't determine your money mentality
What's a "premium price mindset"?
How to stop your money-blocking behavior before it derails you
Why your sense of self-worth determines the clients you attract
You don't have to be the world's #1 expert in your field
Why money loves clarity
How focused commitment gives you freedom
How to make money in 24 hours when you face a cash-flow crunch
Taking action is a sacred ritual
The biggest epiphany of my business life
Why consistency is sexy in business
Selected Links from the Episode
This episode is brought to you by Master of Enrollment. Get a free copy of my book – YES: Conversations that Sell and learn my #1 strategy for talking to potential clients so they practically enroll themselves into working with you. Get your copy here
If you like what you hear, here's how you can leave a 5-Star Review.