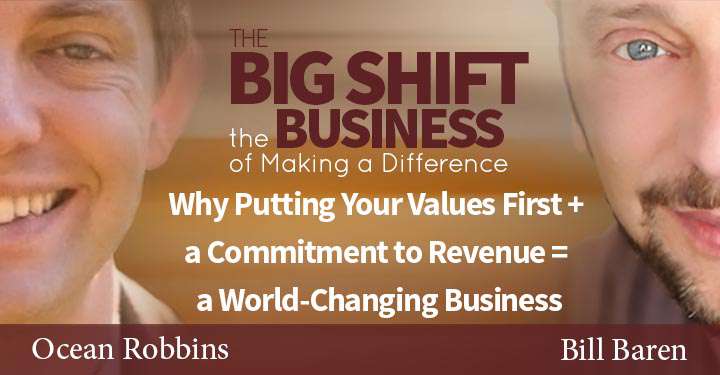 What does it REALLY take to run a thriving business while putting your mission first? No one knows better than my podversation guest, Ocean Robbins.
Ocean Robbins is a visionary activist with razor-sharp business skills. And his business is leading a food revolution that's changing the world.
Today I'll ask him the hard questions about making a living while making a difference.
I promise, you'll never think of your bottom line the same way again!
Subscribe to the show



(Click here for non-iTunes feed)
Listen to the Podcast Here
Or click here to download the podcast in Mp3 (Right Click & "Save As")
Here's What to Expect in This Episode
How has Ocean Robbins helped inspire 1000s to stand up for what they believe in?
What is the incredible story of family intrigue and courage that led Ocean to his purpose in this lifetime?
Why does Ocean say you should always put your mission first in business?
Why does revenue generation fit perfectly with having social impact?
How did Ocean bring fundraising and social impact together?
How is the Food Revolution erasing the divide between doing well and doing good?
Why does doing good in the world require that revenue be part of the picture?
Why should you never confuse net worth and self worth?
What does it take to run a savvy business and still put your mission first?
Why is it time to redefine success to include your impact on people's lives?
How does your business change when social impact is part of your bottom line?
Why is food a doorway to everything?
How does doing something basic and obvious become a radical and edgy approach to business?
Why does standing out as an entrepreneur today require "indicting" the status quo?
How did Ocean develop his clarity of purpose and his courage?
Why is curiosity one of the most powerful forces in the universe?
Why should relationship building always come first in your business?
Why do we perform best at things we measure?
How can you measure the impact of your business' mission?
Why would Ocean love to talk to President Obama about food?
Selected Links from the Episode
This episode is brought to you by Master of Enrollment. Get a free copy of my book – YES: Conversations that Sell and learn my #1 strategy for talking to potential clients so they practically enroll themselves into working with you. Get your copy here
If you like what you hear, here's how you can leave a 5-Star Review.