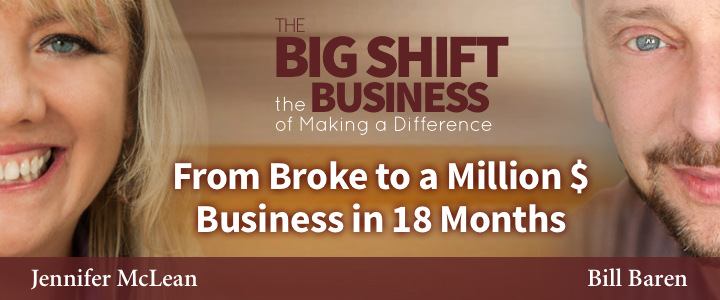 One minute you're working in corporate America, and the next you're thinking about moving into your car just to survive. Just when today's podversation guest, Jennifer McLean, was about to take the vow of poverty and become a healer, her whole world shifted.
She launched Healing with the Masters, grossed a million dollars in just 18 months and never looked back. Listen to how she transformed her belief that "healers can't make money" into a dream-life leading a heart-centered money-making machine.
McLean also gets real about what it means to, um, get real. What tools does she use to stay authentic every day? And how can you get the influential people to promote you and what you do?
You'll even hear an incredible story about The Secret's Joe Vitale that just might drop your jaw.
(Click here for non-iTunes feed)
Listen to the Podcast Here
Or click here to download the podcast in Mp3 (Right Click & "Save As")
Here's What to Expect in This Episode
Is authenticity in business over-rated?
The main difference between tactics and strategies and which one is more important?
What big change made Jennifer McLean so successful?
What's the key to communicating as an equal to anyone?
How can you activate your unique purpose?
What do sex and business really have in common?
Selected Links from the Episode
If you like what you hear, here's how you can leave a 5-Star Review.