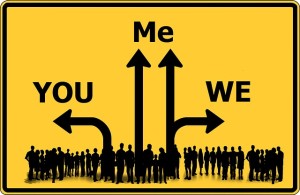 We are constantly bombarded with messages that tell us what to do, how to be and even how to think.  It started in childhood with our parents and now continues through friends, culture at large, marketing and even through various experts on various subjects (yes, including me).
And as important as information, advice and viewpoints are from the outside world, the most important point of view is YOURS.
Any opinion and every teaching point can only illuminate part of your path.  The rest is your job.
Only you know what you truly love.
Only you hear messages from your higher self.
Only you can translate your own experience into your way forward.
Do not ever mistake A "way" with "THE WAY"…
You do not need to market in any way that doesn't feel right.
You do not need to do anything you don't have the potential to love.
You do not need to sacrifice yourself to create a business you want.
You do not need to compromise your integrity to succeed.
Your accomplishments will mean nothing if you don't enjoy the pathway of getting there.
I sometimes fall prey to this myself when I do something not because I truly love it, but because it will get me the outcome I want.  And whenever I do that, I feel depleted, not fulfilled.
One idea that I've now had for over a year is launching my very own podcast and the idea isn't going away.  I am excited about launching it, recording it and making it a widely listened to show.
And I am going to do it my way.
At the same time, I am going to want to know from you  what you want to hear in an audio podcast from me.  That way, I can make this show the intersection of what I want and what you want.
To make this podcast yours, I am going to ask you to vote on the title, the graphics and even what episodes you want me to produce.
I am thrilled to even be telling you…
So stay tuned for more.  And don't forget you make the rules…
Warmly,
Bill
P.S. I want to share something else I've created that is true to my heart.
It is a go-to resource with my top 5 strategies for building your business to generate $10,000 a month doing what you truly love.
I've created this resource taking the strategies I've loved the most, and  the strategies that felt intuitively right to implement along the way.