The more you appreciate the clients you do have, the more
clients you'll attract into your world.
And speaking of appreciation, here's the third and final
installment in my client appreciation series. Alicia came
into my world less than a year ago with a truly unique
calling. In the short time I've known her I've gotten to see
her step further and further into her power.  She has an
answered the calling inside her in a huge way.
Meet Alicia Dattner…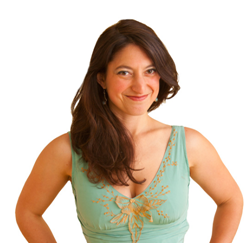 *********************************************
1. Tell us about your business
I'm a comedian and coach, and I help serious spiritual
seekers to lighten up! I help them break through blocks,
express themselves fully, and experience more joy, using
laughter and humor.  //spiritualcomedyfestival.com
2. Before you attended the Big Shift Experience a year ago,
what was your business like?
Before I attended The Big Shift Experience, my business was
in flux, and I was having a hard time trying to fit all the
different pieces together, trying to get clients, and
feeling confident that it would ever work.
3. What is your business like now (after the Big Shift
Experience)?
My business now has experienced a number of amazing shifts.
In this past year, I have gotten a steady stream of incoming
client inquiries, learned how to invite them to work with me
in a way that's effective, and I'm selling them 10 and 20
session packages — to people I have never met — when
before it was a struggle just to sell one. I've quit most of
my "day jobs" (except the consulting work I still enjoy),
and I'm about to take on an assistant to help me expand my
reach.
4. What are you most proud of having accomplished?
I'm most proud of creating and launching a giant online
event called The Spiritual Comedy Festival, a free, online
8-week event designed to help spiritually-oriented people
have more laughter and ease in their lives, by bringing
spiritual teachers with a sense of humor and comedians with
a sense of spirit together to share their wisdom and
insights on being human.
5. What's the biggest personal shift you have made?
For years, I felt like getting clients was possible for
other people, and like I am a great coach, but I didn't
really believe that I could get paid to do it in any
"serious" way (ironic, being that I help people take
themselves less seriously). I get that the sky is the limit
and I feel so much more hope and possibility with these
skills under my belt.
6. What would you have wished you know then that you know
now?
I feel like "It" is really happening now, and it's because I
decided to take the leap–even while terrified. I'm finally
creating the life of my dreams and getting to do what I
REALLY WANT with my life–not waiting until I'm good enough
or the moment is right, but just knowing that "It" happens
when I make the choice that now is the time. I wish I could
have known that the only difference between me now and me
then is that I am saying yes, in the midst of fear and
resistance, and I know I really can bring my gifts into the
world in a beautiful and financially abundant way.
*********************************************
Shower Alicia with praise of her accomplishments below.
Warmly,
~Bill